EXCalc (skinnable calculator control)

Exontrol's ExCalc component provides calculator features to your application. Exontrol's ExCalc component provides calculator features to your application. The component provides implementation for basic arithmetic operations like addition, subtraction, division and multiplication. In addition, you can configure the layout of the calculator the way you want, including new mathematical operations. The component provides flat and drop down version, so you can have the calculator into a drop down field too. Are you looking for an edit calculator? You might want to check the exCalcEdit control.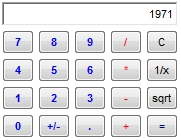 Features of eXCalc include:
WYSWYG Template/Layout Editor support
Drop down version included
Support for arithmetic operation like +,-, * or /
Built-in HTML caption support
Ability to specify the layout for the calculator's matrix of buttons
Ability to specify the pictures for up or down buttons
Picture background support
Custom buttons support
Ability to execute operations without showing the control's drop down portion
ANSI and UNICODE versions available.
and more.

General information about eXCalc product:
| | |
| --- | --- |
| Identifier: | Exontrol.Calc |
| Version: | 11.0.0.1 |
| Files: | excalc.dll, excalc.ocx |
| Available As: | COM/ActiveX, /NET Assembly, ANSI or UNICODE, 32 or 64-bit edition |
| Compatible with: | VB, VB.NET, VBA, C++, X++, C#, VFP, Access, HTML, Delphi, Smalltalk, eDeveloper, xBasic, Dynamics AX, Dynamics NAV, Visual Objects, PowerBuilder, LabVIEW, Power++, FORTH |
| Lines of code: | 28,530 (24,609 excluding comments and empty lines) |
| Includes: | Objects 2, Functions 102, Events 15, Definitions 3 |
| See Also: | |

Shortcut links:
Copyright 1999-2019 Exontrol. All rights reserved.