EXPopupMenu (context menu control)

The ExPopupMenu ActiveX control allows you to display and handle a shortcut menu (window popup menu) or a window's menu bar. The ExPopupMenu control contains also a MenuButton object that allows attaching a popup menu to a push button. Building the menu is more than intuitive because the control provides a WYSIWYG editor, at design time. The eXPopupMenu uses the system's popup menu. For /NET or /WPF enviroment, you can try the eXContextMenu component, that's written from scratch, does not use the system's popup menu, and comes with awesome features.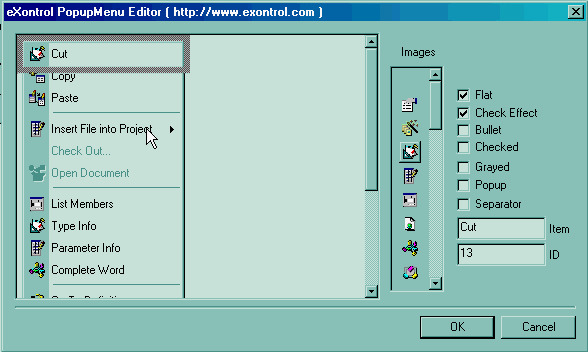 Features of eXPopupMenu include:
Compatible with the Data Execution Prevention (DEP)
Ability to use built-in HTML format inside item.
Ability to attach a popup menu to a button, MenuButton control
Ability to attach a MenuBar to a window ( form, dialog, etc )
Easy way to handle and simulate a drop-down button control.
WYSIWYG editor that helps you to build your menu at design time
ability to add, remove or change the items, at runtime
ability to display images, check boxes, bullets or text as well
ability to load icon's file or folder
standard appearance, flat appearance, NET appearance ( like in the Microsoft NET environment )
ANSI and UNICODE versions available.

General information about eXPopupMenu product:
| | |
| --- | --- |
| Identifier: | Exontrol.ExPopupMenu |
| Version: | 12.0.0.1 |
| Files: | expmenu.dll, expmenu.ocx |
| Available As: | |
| Compatible with: | VB, VB.NET, VBA, C++, X++, C#, VFP, VFP Advanced (x64), Access, HTML, Delphi, Smalltalk, eDeveloper, xBasic, Power++ |
| Lines of code: | 25,269 (22,141 excluding comments and empty lines) |
| Includes: | Objects 5, Functions 126, Events 5, Definitions 8 |
| See Also: | |

Shortcut links: