The ExOrgChart component permits the totally automatic generation of organigrams. An organigram generally provides a clear picture of the hierarchical position of the various actors. The ExOrgChart control shows a hierarchical display of nodes, each one having an HTML caption, pictures and icons aligned to any side of the node. The ExOrgChart component lets the user changes its visual appearance using skins, each one providing an additional visual experience that enhances viewing pleasure.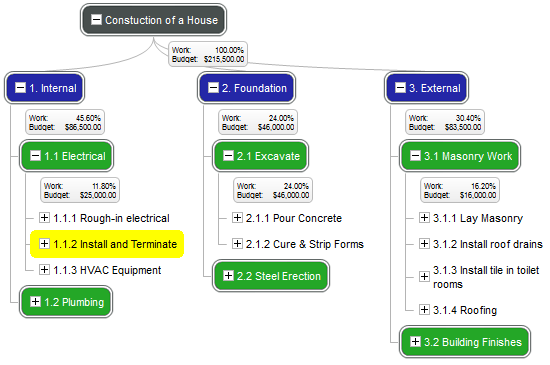 First Look of eXOrgChart:

Features of eXOrgChart include:
Skinnable Interface support ( ability to apply a skin to any background part )
WYSIWYG Inline Editing support (the user can edit and update the node's caption, by a simple click)
Ability to magnify or shrink the chart at runtime, using the middle mouse button
Ability to move nodes by Drag and Drop, to a new position or other parent.
Unlimited options to show any HTML text, images, colors, EBNs, patterns, frames anywhere on the node's background.
Ability to save/load the control's data to/from XML documents
PDF (Portable Document Format), BMP, JPG, GIF, PNG, TIFF, EMF support (Ability to save/export the control's content to PDF, BMP, JPG, GIF, PNG, TIFF, EMF formats)
Ability to arrange the child nodes horizontally, vertically or as a tree.
Ability to show the links between nodes round or rectangular.
Ability to specify any HTML captions (including pictures, icons, anchors, ... ) on any link
Ability to show frame(s) around any node or group of nodes
Top to Bottom (TTB), Left to Right (LTR) layouts support.
Ability to specify multiple parents or root nodes.
Ability to expand or collapse the nodes.
Ability to load icons or pictures from BASE64 encoded strings.
Ability to copy the control's content to the clipboard
Support for assistant nodes
Ability to zoom the chart
Print and Print Preview Support, Fit-To-Pages Wide By Tall, ...
WYSWYG Template/Layout Editor support
Multiple lines HTML ToolTip support
Background picture support
Mouse wheel support
Ability to explore only a branch of the organigram
Ability to display single or multiple layers of the organigram
Ability to scroll the organigram using the mouse or keyboard
Any node supports built-in HTML format
Ability to insert hyperlinks anywhere in the node's caption.
The node supports multiple lines with different alignments
Ability to assign icons, pictures to the node aligned to any side of it
Ability to show the direction of the link between nodes
Ability to show smoothly the lines and curves in the control, using antialiasing rendering
BMP, EMF, EXIF, GIF, ICON, JPEG, PNG, TIFF or WMF format for pictures in nodes
AutoSize feature or fixed width, fixed height for any node supported
Ability to customize the distance between sibling or child nodes.
and more

Click to enlarge!

General information about eXOrgChart product:
Identifier:
Exontrol.ChartView, exontrol.EXORGCHARTLib.chartview, wpf.exontrol.EXORGCHARTLib.chartview
Version:
20.0.0.5
Files:
exorgchart.dll, exorgchart.ocx, exontrol.exorgchart.dll, exorgchart.net, wpf.exontrol.exorgchart.dll, exorgchart.wpf
Available As:
Available since:

2003

20

6

Compatible with:
VB, VB.NET, VBA, C++, X++, C#, VFP, VFP Advanced (x64), Access, HTML, Delphi, Smalltalk, uniPaas (eDeveloper), Clarion, Dynamics AX, Dynamics NAV, xBasic, Visual Objects, PowerBuilder, LabVIEW, Xbase++, Power++, FORTH, Progress
Lines of code:
145,221 (124,397 excluding comments and empty lines)
Includes:
Objects 4, Functions 346, Events 18, Definitions 19
See Also:

Shortcut links: