Exontrol's exThumbnail component provides thumbnail views for your files. Thumbnails are reduced-size versions of pictures, used to make it easier to scan and recognize them, serving the same role for images as a normal text index does for words.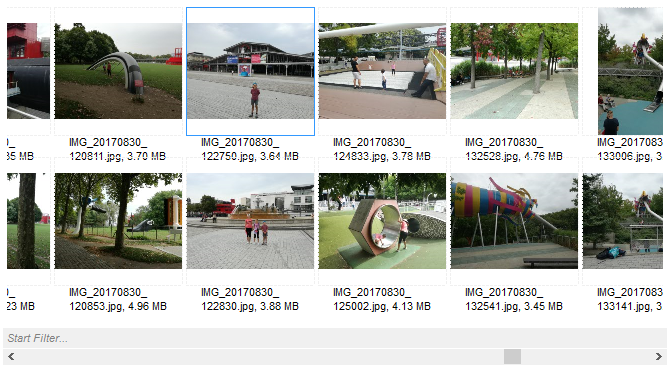 First Look of eXThumbnail:

Features of eXThumbnail include:
Multiple-Files, Selection Thumbnail Support
Filter-Prompt Support, allows you to filter the thumbnails as you type in the control's filter bar
Sort Support ( by name, size, date, dimensions, and so on )
Grid/Stack Mode Support
Context-Menu Support
Auto-Update Support
Scroll-Bars, AutoDrag Support
Expression support for Caption, ToolTipText, ToolTipTitle, FormatABC, so you can programmatically displays the caption, tooltip, and so on
Ability to resize the thumbnail view.
Support for all registered graphic formats.
Ability to save the thumbnail.
Ability to provide a thumbnail for web pages.
BMP, JPG, GIF, PNG, TIFF, EMF Support ( Ability to save the thumbnail as BMP, JPG, GIF, PNG, TIFF, EMF formats )
WYSWYG Template/Layout Editor support.
Ability to draw semi-transparent HTML captions on the thumbnail.
Multiple-Lines HTML Tooltip support.
and more.

General information about eXThumbnail product:
Identifier:
Exontrol.Thumbnail, exontrol.EXTHUMBNAILLib.exthumbnail, wpf.exontrol.EXTHUMBNAILLib.exthumbnail
Version:
19.0.0.3
Files:
exthumbnail.dll, exthumbnail.ocx, exontrol.exthumbnail.dll, exthumbnail.net, wpf.exontrol.exthumbnail.dll, exthumbnail.wpf
Available As:
Available since:

2007

15

10

Compatible with:
VB, VB.NET, VBA, C++, X++, C#, VFP, VFP Advanced (x64), Access, HTML, Delphi, Smalltalk, eDeveloper, xBasic, Dynamics AX, Dynamics NAV, Visual Objects, PowerBuilder, LabVIEW, Power++, FORTH, Progress
Lines of code:
70,791 (62,093 excluding comments and empty lines)
Includes:
Objects 3, Functions 182, Events 18, Definitions 18
See Also:

Shortcut links: