The eXToolBar component arranges / groups as rows or columns, any kind of graphical control elements such as buttons, icons, drop downs, editors, and so on, to let user choose quickly, what function / procedure to run. The eXToolBar component is written from scratch, uses EBN technology to let the user changes its visual appearance using skins, and requires no dependencies to any other third party library.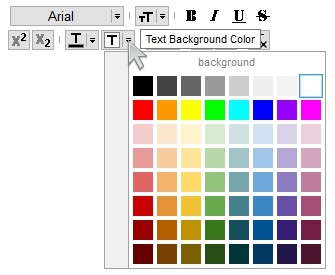 First Look of eXToolBar:

Features of eXToolBar include:
Skinnable Interface support
Ability to arrange / group the items horizontally or/and vertically
State of the art Shortcut-Keys support, with UI visual appearance
Unlimited options to show any HTML text, images, colors, EBNs, patterns, frames anywhere on the item / items' background or foreground
Pictures / Images / Icons support
Check box / Radio button support
Single/Multiple Lines HTML support
Ability to assign BUTTON, DROP-DOWN BUTTON, EDIT, MASK, COLOR, FONT, SPIN, SLIDER, SCROLLBAR, PROGRESS, ... fields to any item
Ability to display items as sub-menu or grouped inside the item
Multi-lines HTML Tooltip support for any item
Incremental Search/Filter the items on a submenu as you type
Partially Translucent support
Fade, light-up/down animation effects
Ability to use any ActiveX control inside sub menus
Keyboard and Mouse Wheel support
and more...

General information about eXToolBar product:
Identifier:
Exontrol.ToolBar, exontrol.EXTOOLBARLib.extoolbar, wpf.exontrol.EXTOOLBARLib.extoolbar
Version:
18.0.0.3
Files:
extoolbar.dll, extoolbar.ocx, exontrol.extoolbar.dll, extoolbar.net, wpf.exontrol.extoolbar.dll, extoolbar.wpf
Available As:
Available since:

2016

7

2

Compatible with:
VB, VB6, VB.NET, VBA, C++, X++, C#, VFP, VFP Advanced (x64), Access, HTML, Delphi, Smalltalk, uniPaas (eDeveloper), Clarion, Dynamics AX, Dynamics NAV, xBasic, Visual Objects, Visual Dataflex, PowerBuilder, LabVIEW, Xbase++, AutoIt, Power++, FORTH, Progress
Lines of code:
96,945 (84,540 excluding comments and empty lines)
Includes:
Objects 7, Functions 259, Events 6, Definitions 21
See Also:

eXRibbon

The eXRibbon component, similar with the Microsoft Office's "Fluent User Interface", or Ribbon, allows you to display graphical control elements in the form of a set of toolbars placed on several tabs.

eXToolBarCRD

The eXToolBar.CRD component is a graphical control element on which on-screen buttons, icons, menus, or other input or output elements are placed.

eXMenu

The ExMenu component is a complete new type of control that displays and handles more than a menu for your application. The ExMenu simulates menu bar, popup menu, options button, toolbar, pick list, and more. Make you application more intuitive using the ExMenu.

eXContextMenu

The eXContextMenu component displays and handles a context menu (also called contextual, shortcut, and popup or pop-up menu). A context menu is a menu in a graphical user interface (GUI) that appears upon user interaction, such as a right-click mouse operation.

eXPopupMenu

The ExPopupMenu component allows you to display and handle a shortcut menu (window popup menu) or a window's menu bar. The ExPopupMenu control contains also a MenuButton object that allows attaching a popup menu to a push button. Building the menu is more than intuitive because the control provides a WYSIWYG editor, at design time.

Shortcut links: