EXRecord

(DataView grid control)

Exontrol's new exRecord control is a container component that displays a set of editors added manually or bounded to a table in a database. The exRecord name comes from the record, that's a set of fields that contain related information, in database type systems. The exRecord significantly reduces development time of data components.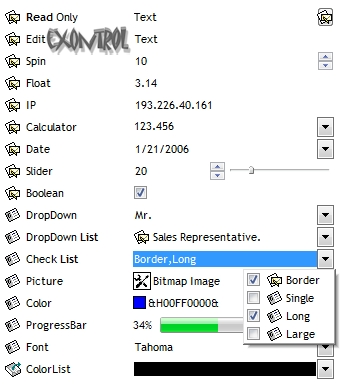 Features of eXRecord include:
COM/ActiveX or .NET Assembly ( as separate products )
Compatible with the Data Execution Prevention (DEP)
Skinnable Interface support ( ability to apply a skin to any background part )
ADO and DAO data binding support
WYSWYG Template/Layout Editor support
It includes editors like: mask, date, drop down list, check box list, memo fields, spin, slider, OLE Object viewer, color, buttons and more. Details here.
Ability to use custom ActiveX control as built-in editors
ActiveX hosting (you can place any ActiveX component in any field of the control).
Arranging fields from left to right, from top to bottom or custom layout as well.
Ability to load icons and pictures from BASE64 encoded strings.
Multi-lines HTML tooltip support
and more.

General information about eXRecord product:
Identifier:
Exontrol.Record, exontrol.EXRECORDLib.exrecord
Version:
16.0.0.3
Files:
exrecord.dll, exrecord.ocx, exontrol.exrecord.dll, exrecord.net
Available As:
Available since:

2005

18

10

Compatible with:
VB, VB.NET, VBA, C++, X++, C#, VFP, VFP Advanced (x64), Access, HTML, Delphi, Smalltalk, eDeveloper, xBasic, Dynamics AX, Dynamics NAV, Visual Objects, PowerBuilder, LabVIEW, Power++, FORTH, Progress
Lines of code:
88,336 (74,747 excluding comments and empty lines)
Includes:
Objects 5, Functions 186, Events 12, Definitions 12
See Also:

Shortcut links: